Carnegie Research Fellowship Program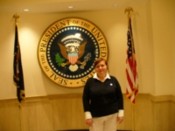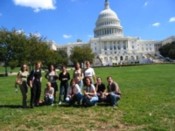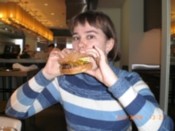 "I would like to express my thanks to the Carnegie Research Fellowship for the good chance to participate and to be a fellow of this scholarship. The NCEEER staff made me feel very welcome on my first visit to the United States. It was a good opportunity for my future professional development and career. It was an unforgettable time because I've found new friends, and learned about the American style of life, holidays and traditions."
--Ala Svet, Free University of Moldova
---
About the Carnegie Fellowship Research Program
Established in January 2001 by the Carnegie Corporation of New York, the Carnegie Research Fellowship Program brings Russian and former Soviet scholars to the United States for short-term, non-degree research at American universities and research institutions. All fellows spend up to four months at their host universities conducting research on specific topics in their fields and write a 15 to 30-page academic paper for presentation upon the fellow's return home. It is expected that returning fellows will actively participate in the development of the program activities of the CASE with which they are affiliated. Fellows are also expected to present their work at conferences and receive peer evaluation of the results of their research.
Participants in this program receive the following: round-trip airfare from their home cities to the host universities in the United States; pre-departure orientation; an academic orientation in Washington, DC or Seattle; visa support; a monthly stipend; health insurance; a professional development fund; access to libraries and archives; and support for membership in international professional associations in their field. A select number of successful participants are designated as George F. Russell fellows and placed at the University of Washington.
Current Carnegie Fellows
Oksana Iurkova, Historiographic Sovietization in the Ukrainian SSR: How Ukrainian Historians Were Made Soviet, 1929-1941, (Minsk) Ukrainian National Academy of Sciences – Columbia University
Alexandr Osipian, Uses of History and Regional Diversity in Ukraine's Elections, 2004-2010: Failed Reforms in a Divided Society, (Minsk) Kramatorsk Institute of Economics and Humanities – George Washington University
Ekaterine Pirtskhalava, Meskhetian Turks in the USA and Georgia: Integration or Separation?, (Tbilisi) Tbilisi State University – Rutgers University
Turkhan Sadigov, Political Participation and Bribe Offer Willingness Among Citizens of Resource Rich Countries of the Former Soviet Union, (Baku) Baku State University – Yale University
Maia Simonishvili, Christian Past, Modernization, and National Identity: Ilia Zdanevitch – A Cultural Bridge Between East and West, (Tbilisi) Ilia State University – The New School
Tamara Tonoyan, Health Care Reform in Armenia: Finding Ways to Overcome Challenges, (Yerevan) National Institute of Health, Armenia – New Mexico State University
Yuliya Zabyelina, Transnational Crimes: The Interplay of Criminal, Political, and Economic Powers in Ukraine's Borderlands, (Minsk) Taras Schevchenko University, Luhansk – City University of New York
Past Carnegie Fellows
September 2011
Krystsina Aksenava, Information Literacy and Career Success, (Minsk) Belarus State University – University of Washington
Asya Darbinyan, The Near East Relief Organization in World War I, (Yerevan) Armenian Genocide Museum – UCLA
Victor Sokovnin, Modernization of Russia through Border Cooperation, (Rostov) Southern Federal University – American University
Nadiya Trach, Language Policy in Contemporary Ukraine, Kyiv-Mohyla (Minsk) Academy – University of Washington
Tatevik Zadoyan, Issues of Municipal Waste Management, Armenian (Yerevan) State University of Economics – University of Vermont
January 2011
Emin Ayliev, Knowledge Based Economy and Sustainable Development in Azerbaijan, (Baku) Nice-Sophia Antipolis University – University of Washington
Tatsiana Bialiayeva, Non-Judicial Methods of Economic Dispute Resolution in Belarus, (Minsk) Belarus State Economic University – University of Washington
Tamara Martsenyuk, Transformation of Masculinities in Post-Soviet Ukraine, (Kyiv) Kyiv-Moyla Academy – SUNY Stony Brook
Namig Naghdaliyev, Central Bank Communication, (Baku) Central Bank of Azerbaijan – Columbia University
Yuriy Savelyev, Social Inclusion in Societal Transformations in Eastern Europe, (Kyiv) Taras Shevchenko University – Boston College
Natalia Shelegia, Georgian Museum Culture in Transition, (Tbilisi) Tbilisi State Academy of Art – Brown University
Apply for the Carnegie Fellowship Research Program
The CRFP competition is open to university, faculty, researches, advanced graduate students, and scholars in the social sciences and humanities from the countries of Armenia, Azerbaijan, Belarus, Georgia, Moldova, and Ukraine. The deadline to apply for this year's competition is April 30, 2013.
Applications will only be accepted electronically. Please e-mail all applications, as PDF or Word attachments, to This e-mail address is being protected from spambots. You need JavaScript enabled to view it . Please direct all inquiries to Alexei Kharlamov: This e-mail address is being protected from spambots. You need JavaScript enabled to view it
The CASEs
A primary goal of this program has been to integrate Russian and former Soviet social scientists and humanists into the work of regional Centers for Advanced Study and Education (CASEs), originally supported by the Carnegie Corporation of New York and the John D. and Catherine T. MacArthur Foundation, in cooperation with the Kennan Institute, INO-Center Moscow, and the Russian Ministry of Higher Education. The CASEs have become magnets for scholars who both teach and undertake research through their auspices. The mission of this multi-year commitment has been to strengthen regional universities, restore academic communities, foster a new generation of social scientists and humanists, and integrate scholars from Russian and former Soviet regions into collegial communities with their Western colleagues.
The CASEs currently include the following centers: