| | | | |
| --- | --- | --- | --- |
| Problems of Post-Communism | | | |
http://www.problemsofpostcommunism.org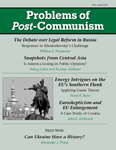 Problems of Post-Communism, a publication of M.E. Sharpe, covers the contemporary societies of the communist and post-communist world. With a special focus on issues of interest to U.S. foreign policy, the journal provides accessible and timely research on political, economic, and security-related developments in Europe and Asia, with a geographic span that includes Russia and China, Central Europe and Central Asia, Latin America, and Southeast Asia.


The journal is edited by Dr. Dmitry Gorenburg, in cooperation with the National Council for Eurasian and East European Research, and Professor Sherrill Stroschein of the University College London. Dana Ponte (NCEEER Executive Associate) and Danielle Percich (NCEEER Program Officer) work as the editorial assistants.
We welcome submissions via email ( This e-mail address is being protected from spambots. You need JavaScript enabled to view it ), or MS Tracker (

http://mstracker.com/submit1.php

). Submitted manuscripts should conform to an 8,000 - 10,000 word count (including notes) and include an abstract of no more than 100 words.

Published articles use Chicago-style endnotes, but authors need not reformat their references while a paper is under review. All foreign-language citations must include English translations.

All personally identifying information must be removed from the article before submission.



All submissions must be original work that is not under consideration by another journal. Problems of Post-Communism does not publish book reviews. Submitted articles undergo a double-blind peer review process that is overseen by NCEEER's Board of Directors, and by the Problems of Post-Communism Editorial Board.
Questions regarding advertising, subscriptions, and other issues should be directed to

M.E. Sharpe

. For information on reprinting articles that have appeared in Problems of Post-Communism, please

contact the publisher

.
Authors intending to submit manuscripts should ensure that their submissions confirm to the sylistic guidlines outlined in the Problems of Post-Communism Style Sheet, accessible here.