About the Toumanoff Library
The Virtual Toumanoff Library was established in cooperation with the informatics service of the University of Pittsburgh's Center for Russian and East European Studies (REES). REES won a national competition to help NCEEER create the Virtual Library. The Virtual Library complements the existing Toumanoff Library, indexed and housed at the University of Washington's Suzzallo Library, which contains the hard copy holdings for nearly all of NCEEER's 1,000 plus research reports published since its creation in 1978. NCEEER grants and research publications, the Toumanoff Library, and the Virtual Toumanoff Library are all made possible by grants from the United States Department of State under the Title VIII program. Nearly all NCEEER publications are freely downloadable. The University of Pittsburgh indexes and houses the electronic versions of these publications that comprise the Virtual Toumanoff Library.


Click To Access The Virtual Library!
In 1998, NCEEER established the Vladimir I. Toumanoff Library.The Library contains several hundred of the working papers submitted to NCEEER by scholars under their grants over the last two decades. Accordingly, this collection captures the efforts of some of our country's best researchers and analysts on the politics, history, sociology, economics and/or foreign policy of the states of the former Soviet Union and Central and Eastern Europe. We will continue to add to the collection as our researchers prepare new papers.
In the fall of 2006, after the move of NCEEER headquarters to Seattle, NCEEER decided to donate the contents of the Toumanoff Library to the Suzzallo Library at the University of Washington. Once cataloged, the Toumanoff Library holdings will be available in the Suzzallo main bookstacks. This donation will make the Toumanoff Library holdings more accessible to a wider variety of students and scholars. Any individual, whether affiliated with the UW or not, is welcome to use the Toumanoff Library holdings during regular business hours of the Suzzallo Library. Please contact the university's Slavic and East European Studies librarian, Michael Biggins, at This e-mail address is being protected from spambots. You need JavaScript enabled to view it , or (206) 543-5588 for further information.
About Vladimir Toumanoff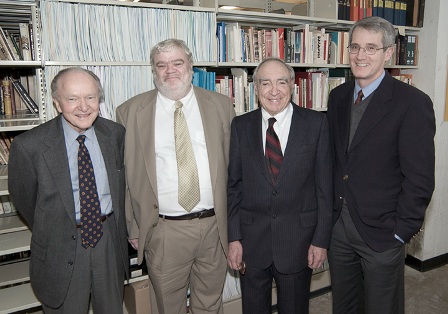 From left: Herbert Ellison, Robert Huber, Vladimir Toumanoff, Michael Biggins
Vladimir Toumanoff is NCEEER's founder and former president. During his time at NCEEER (1978-1998), Mr. Toumanoff supervised the editing and dissemination of NCEEER papers to key policy makers in a variety of government agencies. We would like our library to remain a tribute to his initiative and inspirational hard work.
Mr. Toumanoff's career shows a long dedication to foreign policy and scholarship. Besides serving in the foreign service for nearly twenty-five years and holding high-ranking positions in the Department of State, he also served as assistant director of Harvard University's Russian Research Center. The American Association for the Advancement of Slavic Studies presented him with the Distinguished Contributors Award to recognize his outstanding lifetime service to the field. NCEEER strives to continue Mr. Toumanoff's work of promoting the growth of Eurasian and East European Studies and building bridges between the scholarly and policy communities.