| | | | |
| --- | --- | --- | --- |
| Problems of Post-Communism | | | |
http://www.problemsofpostcommunism.org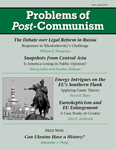 The post-communist countries are the most rapidly changing societies of Europe and Asia. For insight into this twenty-first century revolution, there is no better source than Problems of Post-Communism. Emphasis is placed on timely research covering current economic, political, security, and international developments and trends in Russia and China, Central Europe and Central Asia, Latin America, and Southeast Asia. Clarity and readability make the articles fully accessible to researchers, policy makers, and students alike.

Problems of Post-Communism is indexed in the Web of Science with an Impact Factor of 0.259 © 2014 Thomson Reuters

The journal is edited by Dr. Dmitry Gorenburg, in cooperation with the National Council for Eurasian and East European Research (NCEEER), Dr. Sherrill Stroschein and Dr. Martin Dimitrov. Dana Ponte (NCEEER, Executive Associate) is the Editorial Assistant.
Problems of Post-Communismreceives all manuscript submissions electronically via its ScholarOne Manuscripts site located at http://mc.manuscriptcentral.com/popc. ScholarOne Manuscripts allows for rapid submission of original and revised manuscripts, and facilitates the review process and internal communication between authors, editors, and reviewers via a web-based platform. ScholarOne technical support can be accessed at http://scholarone.com/services/support. If you have any other requests, please contact This e-mail address is being protected from spambots. You need JavaScript enabled to view it , Editor.